Daley's resolution calls on federal government to reconsider new IRS reporting requirements
---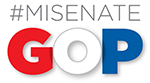 LANSING, Michigan – State Senator Kevin Daley on Thursday introduced a resolution calling on Congress to reconsider the recently announced IRS reporting requirements.
"These proposed requirements constitute a disturbing invasion of the privacy of our federal government," said Daley, R-Lum. "I don't think our federal officials should allow people's privacy to be put at risk so that the government can raise more taxpayer dollars to pay for the government's massive spending programs."
Senate Resolution 85 urges the US Congress to oppose unnecessary and damaging changes to Internal Revenue Service reporting requirements proposed by the US Department of the Treasury.
The ministry has proposed requiring financial institutions to report financial account information for accounts with a gross cash flow threshold or fair market value of $ 600 or more. The proposal requires financial institutions to report gross inflows and outflows with a breakdown for physical cash, transactions with foreign accounts, and transfers to and from another account with the same owner. The proposed rules would apply to business and personal accounts, including bank, loan and investment accounts at financial institutions subject to the proposed requirement.
"I've heard from people across my district, and even across the state, say how really concerned they are about what these rules mean for their privacy," Daley said.
"It would also put more pressure on our community banks and credit unions, which are already grappling with unnecessary regulations from Washington."
###